---
---
Werkgroep Voedingsgewoonten
---

The WeVo is a network of Dutch researchers involved in research on food and eating habits. The WeVo meets twice per year in an informal atmoshere to share and discuss (ongoing) research findings of Dutch scientific scholars from various academica disciplines. Moreover, the WeVo-network is used for the dissemination of upcoming courses, and conferences, symposia, dissertation defenses etc. The members of the WeVo also keep each other informed about job openings. The WeVo network consists of academic researchers from Amsterdam, Groningen, Maastricht, Utrecht, and Wageningen as well as researchers working at the for instance the RIVM, TNO, Unilever, and Nutriticia.
---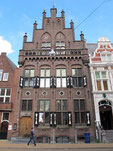 Op maandag 18 april 2016 vond de halfjaarlijkse bijeenkomst van de WeVo plaats in het Van Swinderen Huys in Groningen. 
Het programma zag er als volgt uit:
10.30 – 11.00 uur Ontvangst en koffie
11.00 – 11.15 uur Voorstelrondje & update verzendlijst WeVo
11.15 – 11.45 uur Koert van Ittersum, RUG
Voeding en gezondheid op de RUG/UMCG: Organisatie, onderzoek en onderwijs Healthwise.
11.45 – 12.00 uur Eva Corpeleijn, UMCG
Voeding en gezondheid op de RUG/UMCG: Groningen als 'city of cohorts'.
12.00 – 12.30 uur Martijn Veltkamp, FrieslandCampina
Comparison of food recommendations varying in sustainability.
12.30 – 13.00 uur Roxanna Camfferman, Leiden University
The role of cognitions on parental feeding practices and the eating habits of the child.
13.00 – 14.00 uur Lunch
14.00 – 14.30 uur Gitte Kloek, Haagse Hogeschool
Wat is WIJS? Een multidisciplinair naschools interventieprogramma voor kinderen met overgewicht geëvalueerd.
14.30 – 15.00 uur Bob Fennis, RUG
The bright side of indulgence: When and why disinhibited consumption may foster creativity and problem solving.
15.00 – 16.00 uur Presentaties onderzoekers RUG
Jenny van Doorn – Why do we purchase (too much) food to let go to waste? The role of health motivation.
Martine van der Heide – Healthy-shopping dynamics: The relative healthiness of food purchases throughout shopping trips.
Laetitia Mulder – Moralizing obesity.
Jan-Willem Bolderdijk – The social risks of a sustainable diet.
16.00 – 16.15 uur Huishoudelijke vergadering
1. Opening
2. Volgende bijeenkomst
3. Programma volgende bijeenkomst
4. Ontwikkelingen m.b.t. onderzoek
5. Rondvraag
6. Sluiting
---
Participants
Andrea Werkman (Hanzehogeschool)
Anke Oenema (UM)
Anne Looijmans (UMCG)
Annet Hoek (Annet Hoek Research & Consultancy)
Bob Fennis (RUG)
Caroline van Rossum (RIVM)
Eva Corpeleijn (UMCG)
Gitte Kloek (Haagse Hogeschool)
Hilde van Keulen (TNO)
Jan-Willem Bolderdijk (RUG)
Jenny van Doorn (RUG)
Koert van Ittersum (RUG)
Laetitia Mulder (RUG)
Liesbeth Velema (VU) 
Maartje Poelman (UU)
Marieke Battjes (Louis Bolk Instituut)
Martine van der Heide (RUG)
Martijn Veltkamp (FrieslandCampina)
Merel van Vliet (LU)
Roxanna Camfferman (LU)
Sanne Raghoebar (WUR)
Saskia te Velde (Te Velde Research & Consultancy)
Sofie van Rongen (WUR)
Stef Kremers (UM)
Willemieke Kroeze (VU)
---
Foto impressie van de bijeenkomst
---