---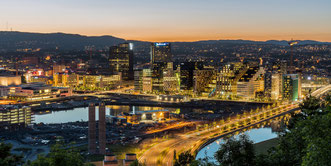 Marketing in the age of data
Today, the world is being dramatically reshaped by the omnipresence of data and by the convergence of various data sources.
Novel technologies have not only facilitated access to new kinds of data, but also significantly increased the quality and quantity of the data to which we have access. While these developments provide our discipline with distinctive possibilities to thrive, they also demand new tools, techniques, and ethical principles to be established to treat data.

EMAC 2016 in Oslo provides a unique opportunity to discuss these topics and to learn from distinguished members of our discipline about the significant transformations of marketing research and practice in the age of data.
Additional information here
---
Talks
---
Shopper marketing
Chair: Koert van Ittersum, University of Groningen
The role of the in-store location of a promotional display for shoppers' attention and buying decisions
Gunnar Mau*, University of Siegen
Hanna Schramm-Klein, University of Siegen
Markus Schweizer, Migros Aare
Sascha Steinmann, University of Siegen
Gerhard Wagner, University of Siegen
Empirical studies prove the effects of promotional displays on sales. The role of its location, however, is still under-researched. In a field experiment using observational techniques, we were able to show that displays in an incongruent setting gain more attention but lead to fewer sales than displays in a congruent setting.
Shopper behavior under the microscope: understanding the relationships between shoppers' in-store physical activities and purchase decisions
Julien Schmitt*, Aston University
Peter Leeflang, University of Groningen
Kristina Schmidt, Aston University
Jaap Wieringa, University of Groningen
Previous research indicates that the large majority of purchase decisions are made in the store and influenced by shoppers' in-store behavior. Thus, it is critical to understand the dynamics between consumers' in-store physical activities and their final purchase decision. However, existing research does not take into account the full range of shoppers' in-store actions. The present research uses an innovative PDA technology to unobtrusively observe shoppers' behavior, to capture and time-stamp their shopping paths and actions in front of shelves in high detail and to link them to purchase-related outcomes (purchase, number of products bought, average price). We also consider key factors such as marketing interventions (e.g., promotions, salesperson contacts) and contextual variables (e.g., time pressure, crowding). Results demonstrate that a detailed observation of shoppers' in-store physical activities generates important insights to better understand consumer choice processes.
Mall shoppers' segmentation: Differences between Top 2 box satisfaction score and the net promoter score (NPS)
Laura Lucia*, University of Saragossa
Raul Perez-Lopez, University Of Zaragoza
Yolanda Polo-Redondo, University Of Zaragoza
There has been an extended use of some customer's satisfaction and loyalty metrics in the managerial context that has increased with the introduction of the Net Promoter Score (NPS). The aim of the paper is to analyze whether the firm's loyalty strategies differ depending on the metric used for segmentation and in that case, to determine in what aspects they are different. We report results from a study using data from mall shoppers in Spain to create segments based on NPS and on Top 2 Box satisfaction score. The study compares the strategy of the firm to convert potential promoters into promoters with the strategy followed to convert passive satisfied customers into highly satisfied customers. The study confirms that although strategies mall managers should follow about customer experience value and stress are similar, others depend on the metric used. Implications for managers are proposed related to the results obtained.
Dynamic in-store spending behavior
Koert van Ittersum*, University of Groningen
Daniel Sheehan, University of Kentucky
With retailers' growing ability to identify and engage customers while shopping, it becomes increasingly important to understand how their sequential spending decisions evolve over the course of a shopping trip. Going beyond end-of-trip spending totals, this research demonstrates that shoppers' relative spending—the price of the purchased item relative to the mean price of the product category—evolves nonlinearly and distinctly for budget and nonbudget shoppers as a function of the pain of paying experienced while shopping. Specifically, three studies reveal that a shopper's relative spending evolves convexly for nonbudget shoppers and concavely for budget shoppers. Mediation analyses confirm that these unique patterns in relative spending are driven by distinctive patterns in the pain of paying experienced while shopping. This research offers different theoretical contributions, while also having important implications for practitioners.
---
Boundary research: Tools and rules to impact emerging fields
Chairs: Koert van Ittersum*, University of Groningen
Brian Wansink, Cornell University
Most traditional research in academic disciplines is centrist. It focuses on research questions that are central to the evolution of a field. In the behavioral sciences, research areas such as attribution theory, behavioral decision theory, diffusion theory, and regulatory focus are just a few centrist topics that spawned hundreds of field-changing dissertations and articles. Yet not all started out as centrist. Many started on the periphery or boundary of what was then fashionable in their fields. Over time, however, they moved from idiosyncratic to impactful, from fringe to focus. Boundary research can be risky, but it can also move academic disciplines into wider areas of influence. To help reduce the risk and increase the reward, this roundtable will discuss new tools that boundary researchers can use to get started, published, and promoted. These include writing for surprising impact, positioning their research against a larger theme, developing a Research Impact Matrix for promotion, and estimating a 10-year citation record. These tools can help move a boundary research area from fringe to focus. The main objectives of this roundtable are to bring together researchers interested in engaging in boundary research, sharing experiences and best practices with regards to conducting and publishing boundary research, and helping junior boundary scholars navigate their tenure track (full paper: http://dx.doi.org/10.13140/RG.2.1.4437.1288).
Supporters: Abbie Griffin, Ajay Kohli, David Mick, Cele Otnes, Koen Pauwels, Rik Pieters, Stefano Puntoni, Roland Rust, Peter Verhoef
---
Meet the editors session
Behavioral journals
Chair: Mehrad Moeini-Jazani, BI Norwegian Business School
In this session, each editor or representative will explain the mission, editorial process, recent submission trends, and other topics of interest for scholars looking to publish their work in their journal. The aim of the session is to help prospective authors understand what it takes to be published in each journal, and why papers get rejected. There will be extensive opportunity for Q&A.
Journal of the Association for Consumer Research
Joel Huber, Duke University [Koert van Ittersum* replaced Joel Huber]
Journal of Marketing Behavior
Klaus Wertenbroch*, INSEAD
European Journal of Marketing
Nick Lee*, University of Warwick
Journal of Advertising
Shintaro Okazaki*, King's College London
Journal of Consumer Psychology
Amna Kirmani*, University of Maryland
Journal of Consumer Research
Stijn van Osselaer*, Cornell University
---